Olympic gold medalist Zac Stubblety-Cook broke the world record in the men's 200m breaststroke final at the Australian Swimming Championships in Adelaide.
Key points:
Zac Stubblety-Cook said breaking the world record was "surreal"
Kyle Chalmers said he will reconsider missing out on the World Championships after winning the 50m butterfly.
If Chalmers changes his mind, pop star Cody Simpson could be lost
His time of 2:05.95 was 0.17 seconds shy of the old record held by Russia's Anton Chupkov, making him the first man in history to break the 2:06 barrier.
Stubblety-Cook won gold at the Tokyo Olympics event.
"I always had the goal in the back of my mind to be the first to go 2:05 and you don't get many chances and tonight was one of them," he said after the race.
"It doesn't feel real yet, it hasn't really sunk in. It will probably sunk in in the next few days, I still have some work to do before that."
"Obviously I expected to swim fast and expect to swim close to my best and that's just another thing."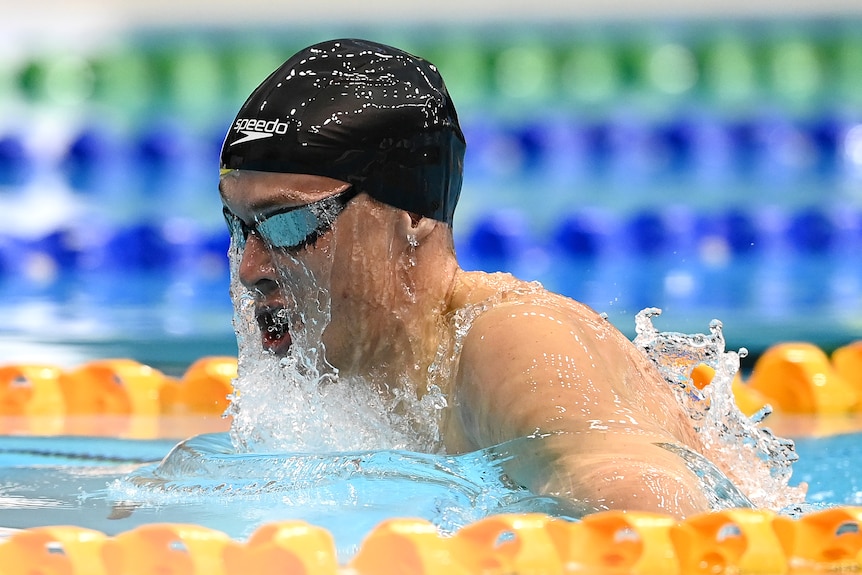 Stubblety-Cook said he was driven by process, not results.
"I thought about it and tried to be close to that process, but I never said yes, that's it, like I want to break a world record, but you know it happens," said the low-key swimmer.
Matthew Wilson, who finished third, led the race in a fast time, allowing Stubblety-Cook to make it home.
"I felt pretty good in the hundred, so I knew I could bring it home, but yeah, I didn't think we were going to go fast."
'You can't make me the villain': Chalmers might swim at the World Championships after all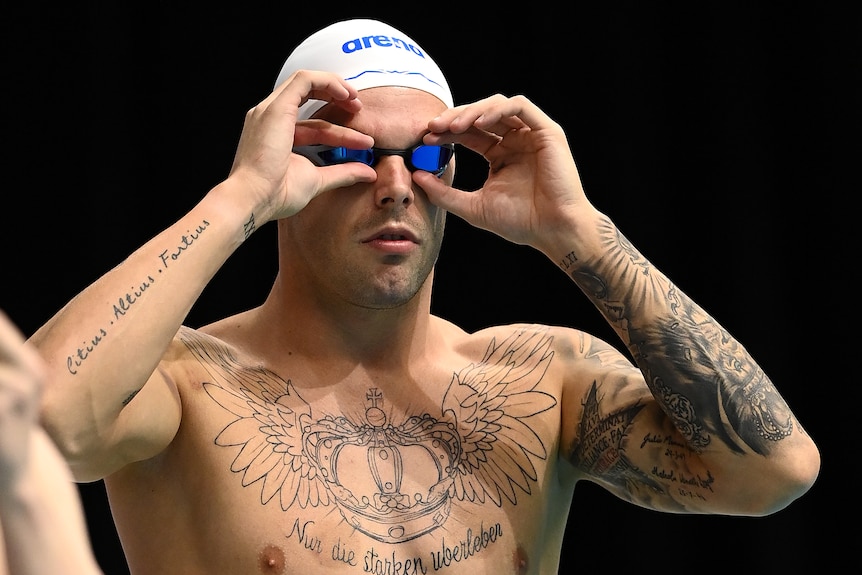 Earlier, freestyle Olympic gold medalist Kyle Chalmers dropped a bombshell by saying he is considering swimming at the World Championships, which would deprive pop sensation Cody Simpson of a spot on the team.
Chalmers has opened up to the media about the physical and mental pain he has suffered in recent months after winning the men's 50m butterfly event at the Australian Swimming Championships in Adelaide.
On Wednesday, Chalmers finished second and Simpson third in the 100-meter butterfly, behind Olympian Matthew Temple.
Chalmers had previously said that she would not be swimming at the World Championships in Budapest this June.
That decision opened the door for Simpson's incredible return to the pool after a successful decade-long music career.
But Chalmers says his form has surprised him and butterfly swimming is his first love, prompting a rethink of the World Championships.
"Well, you can't make me the villain, can you?" Chalmers said if he decides to compete, which could rob Simpson of a spot.
"Unfortunately I started as a butterfly and I swam, I have been in the team for 8 years, I have seen the 100 butterfly from afar and I always wanted to do it, my body has not allowed me to. make it to this point," she said.
"For me, I have to have a serious meeting with my coach [Peter Bishop] and my team around me and have that discussion for the next few days," he said when asked if he would swim in Budapest.
"Personally I think it's [swimming at the World Championships] It will be the best for me to continue because I know my coach, my team is going to Europe, I will stay here alone training alone," he said.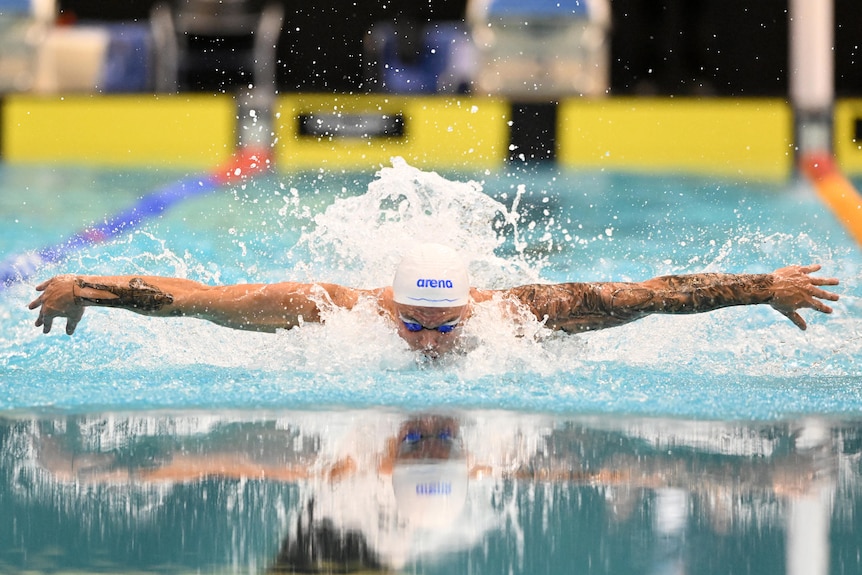 "Obviously I look at my preparation eight weeks ago, I wasn't in the pool at all, I may not swim this year, I may never swim again."
"My shoulders hurt a lot.
"I gave everything I could to this sport for the last five years, mentally, physically and emotionally, and I was extremely drained."
He said a holiday in Noosa with a friend prompted him to decide that if he was going to swim again, he would do the butterfly.
"Just to take that pressure and expectation off of myself," he said.
"It's been a rapid progression. I think it would have been very disrespectful for me to stand there eight weeks ago and say I'm going to be at the World Championships in butterfly swimming."
'It's about being comfortable feeling uncomfortable'
He said the final decision on swimming at the World Championships would be made with a view to the 2024 Olympics.
"I want to swim a long course butterfly, I want to swim the 100 butterfly in Paris," he said.
Chalmers spoke about the enormous pressure he said he's been feeling recently, saying he recently told his coach that he just wanted to go home.
"Every time I stand behind the blocks there is so much pressure and expectations on me, obviously the media doesn't help either, I can't do my thing and compete like I want to now," he said.
When asked why he's still going after enduring so much physical pain from multiple shoulder surgeries and mental anguish, he replied, "What else do I have?"
"You do it for the love of it."
"I've been through a lot of physical pain, especially these last two and a half years."
He revealed that he recently ripped an ankle bone.
"For me it's about being comfortable being uncomfortable," he said.
"It's about dealing with these issues, dealing with injuries, dealing with setbacks, the mental side of things.
"People like to see us as perfect humans, but unfortunately we are just like everyone else… we are not robots.
"It's not just about training and having fun and enjoying it, it's a lot of physical, mental and emotional setbacks to get to that point and that's why I love racing."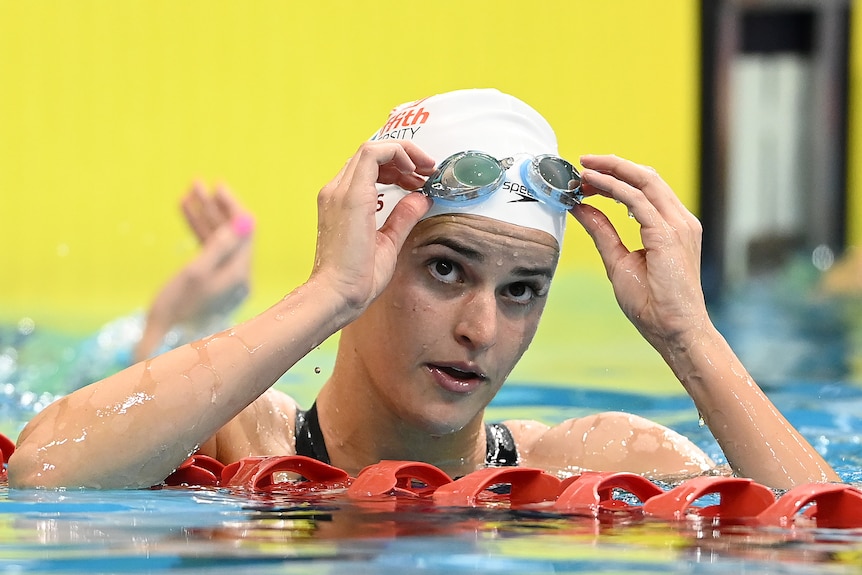 Triple Olympic gold medalist Kaylee McKeown also had a revelation after winning the 400m individual medley in a world-class time of 4:31.74.
McKeown won two individual backstroke gold medals, as well as a relay gold medal in Tokyo, but has revealed he would likely swim the 400 IM at the World Championships, as well as his preferred breaststroke: the 100 and 200 meter backstroke.
"It's definitely going to be a tough year to pick what I'm going to do and, at the same time, it's the year to do it," he said.
McKeown said his coach (Michael Bohl) would let him make the final decision on whether to swim the 400m individual medley.
When asked if he wanted to do it, he replied, "Yes? No, but will I? Yes."
Aware , updated