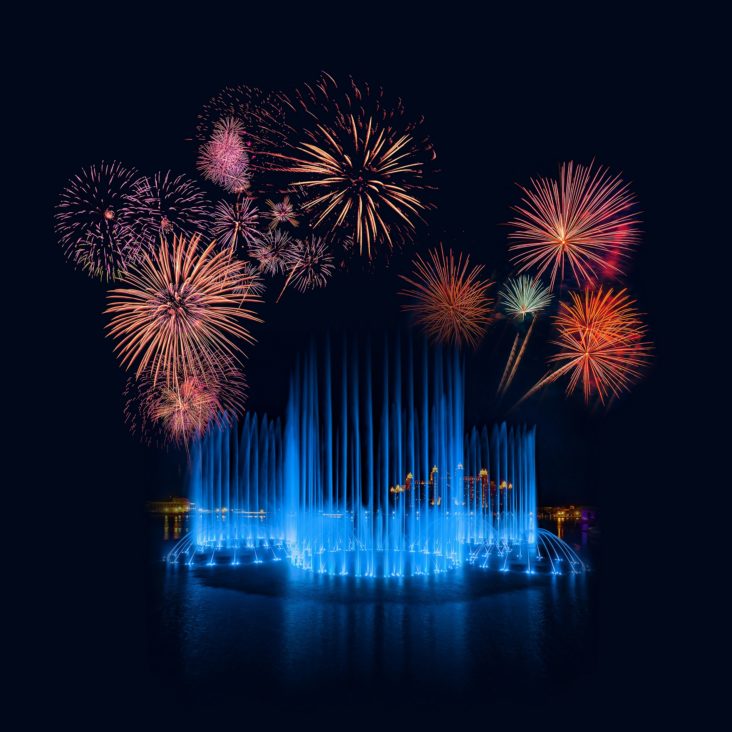 Celebrate, dine and soak up the sunshine this Eid Al-Fitr as Palm Jumeirah's waterfront destinations buzz with exciting offerings from May 2-8.
Visitors can look forward to a spectacular fireworks show at The Pointe on May 2 at 9 pm and can enjoy The Palm Fountain's lineup of exciting shows.
Open from 10 a.m. to 10 p.m. Monday through Friday and 10 a.m. to 1 a.m. on weekends, Club Vista Mare, Palm West Beach and The Pointe offer a variety of all-day entertainment, water sports and lifestyle exclusive and gastronomic experiences to explore.
Club with sea views
Mony Rowing School
enjoy a paddle or kayak experience with friends and family and take advantage of the Eid AED 35 offer for one hour on Tuesday and Wednesday
for reservations call 050 738 0910
Ibn Al-Bahr
enjoy a breakfast by the sea at Ibn Al Bahr daily from 8:30am to 11am for AED 150 for two, including a breakfast basket of must-have Arabic dishes like balila, dirty mudmams, labnah and more
For reservations call 04 553 9575 or 054 469 0075
Logs and embers
Craving a baked cheese pizza? Try Family Backyard Pizza Night every Monday from 5pm to 11pm and enjoy a variety of snacks, pizzas and more for just AED89 per person
For reservations call 052 109 6829
Rumba
a delicious menu awaits you in Cuban LunchMonday-Friday, 12:00-4:00 PM, includes a selection of appetizers, mains and a drink for AED 110 per person with a South American DJ playlist
for reservations call 04 570 8111
west palm beach
The club
Visit The Club, Dubai's newest beach club, and enjoy a gateway experience this holiday taking advantage of the variety of SAN Beach cabins from AED150
Live an unforgettable day in Eva and S's beach houseANN Beach with access to the pool and the beach, live music and delicious food
for reservations call 04 458 0499
surf club
music enthusiasts can look forward to a week of international DJ sets from May 5 to 8 with the DJs: Seth Schwarz (May 5), Ghenwa Nemnom & Djette (May 6), Satori (May 7) and Parellels (May 8)
for reservations call 04 589 5444
lucky fish
enjoy a party like never before at Lucky Fish all week long, with lively vibes and tunes from the resident DJ, along with delicious food and cocktails
for reservations call 04 569 3447
tip
paddle park
Take advantage of a 20% discount at The Pointe's Padel Park this Eid between 6 a.m. and 4 a.m.
for reservations call 058 594 1789
Gym
Enjoy a long-awaited fitness experience at Fit Box Gym and get a 20% discount on all new memberships purchased this Eid
for more information call 058 532 9093
mongolian ger
treat yourself to an exquisite eid food with an all-you-can-eat buffet, stew, grills, desserts and more for AED 169 for adults and AED 89 for children
for reservations call 04 564 8822
KYO
seize kyo Eid set menu and enjoy delicious appetizers of sushi, edamame, salad and soup platters, choose your main course from 'tara no yuan-yaki', angus hot stone or grilled vegetables and a variety of mochi for dessert for AED 500 per couple
for reservations call 04 557 5182
alias
Japanese cyberpunk-inspired lounge AKA welcomes visitors this Eid on May 3rd and 4th and spend AED 350 per person to get a special gift from the 'Illuvme' beauty salon and a complimentary dessert from the chef
For reservations call 04 578 0555 or 055 934 2093
Social District
enjoy a new experience every day of the week, with game nights Every monday, band night every Friday from 8:30 pm, band at lunch every Saturday from 3 pm or the workspace which has all you can drink coffee and water for AED19 only until 5pm
fox
spend your Eid celebrate with friends and family and enjoy appetizing Uzbek cuisine and a live performance by a Qanun player on May 3
for reservations call 04 566 9612