Beijing is unlikely to waver from its strict approach. President Xi Jinping has made low death and infection rates central to the legitimacy of his administration. Officials have been fired even after some cases were detected in their jurisdictions. Last week, Xi said that "prevention and control work cannot be relaxed."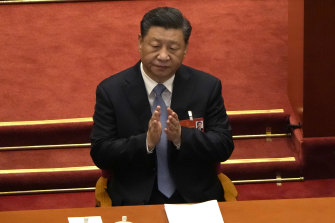 The focus on minimizing COVID deaths risks incentivizing officials to neglect other causes of death, said Xi Chen, a professor of public health at Yale.
"People pay overwhelmingly great attention to those more visible deaths," he said. "But every kill counts. They count the same".
When the Omicron variant began circulating in Shanghai in March, some looked uneasily at the Hong Kong example. Shanghai's infection curve closely followed that of the large Hong Kong outbreak. Both cities have large populations of older people, many of whom are not fully vaccinated. Hong Kong's COVID death rate soon became the highest in the world, with around 9,000 deaths.
But a month later, Shanghai, more than three times as populous as Hong Kong, has recorded just 17 COVID deaths.
Hong Kong was never completely closed. Deaths often lag behind infections, so the reported count in Shanghai could rise. However, experts say there is another reason for the disparity: the way China counts COVID deaths.
Many places, including the United States, Britain and Hong Kong, do not differentiate between people who die with COVID or those who die from COVID, as long as the coronavirus was a contributing factor. But mainland China generally only counts those who die directly from COVID-related pneumonia, said Zhengming Chen, a professor of epidemiology at the University of Oxford. (For a long time it has done the same with other diseases).
That may be why, even as COVID has swept through hospitals for older residents, none of the patients who have died seem to have been recorded as COVID deaths. (The workers said they did not know the exact causes of death.) A Shanghai businessman said his 77-year-old father, who had diabetes, died two days after testing positive. He was also not recorded as a COVID death.
"If you apply international criteria," Chen said, "the number of deaths would be somewhat high."
Chen co-authored one of the few studies to examine non-public mortality data in Wuhan, where the pandemic began, in collaboration with Chinese government researchers. They found that COVID deaths there for the first three months of 2020 were likely at least 16 percent higher than reported.
Charging
Even within China, classification practices can vary. Shanghai officials said all 17 people who died had underlying conditions that were direct causes of death, suggesting the criteria they are now using is more in line with international practice. China's National Health Commission did not respond to a faxed request for comment on its method of counting COVID deaths.
Under-accounting for the death rate of the pandemic could actually erode the Chinese public's support for strict containment measures, Chen said.
If the number were really that low, he said, residents might ask, "Why bother?"
"But if the actual number of deaths due to COVID, depending on how you calculate it," was much higher, he said, "then that probably needs careful thought."
Charging
But the authorities continue to insist that a looser approach would be disastrous. And they have silenced voices that suggest otherwise.
This month, a prominent Shanghai physician, Dr. Miao Xiaohui, estimated that the number of excess diabetes deaths could reach nearly 1,000 by the end of his city's lockdown. Their estimate was based on the Wuhan excess mortality study, which, in addition to tracking COVID deaths, also showed deaths from noncommunicable diseases, including heart disease and diabetes, were 21 percent higher than than expected during that city's lockdown.
"Why can't we consider a middle path" between zero COVID and living with the virus, Miao wrote in a blog post.
The post was censored.
This article originally appeared on The New York Times.