The United States will supply Ukraine with more ammunition for long-range weapons that effectively target Russian forces as part of an extraordinary security package, according to a report.
Reuters said President Joe Biden's administration is ready to announce a $1 billion package that includes ammunition for the US-produced M142 High Mobility Artillery Rocket Systems (HIMARS), the range of which has enabled Kyiv achieve important goals.
There are reportedly 16 US-supplied HIMARS in Ukraine that Kyiv forces say have successfully attacked Russian command centers and ammunition depots.
The new package will come through the Presidential Withdrawal Authority (PDA), which allows Biden to authorize transfers of US stocks without congressional approval.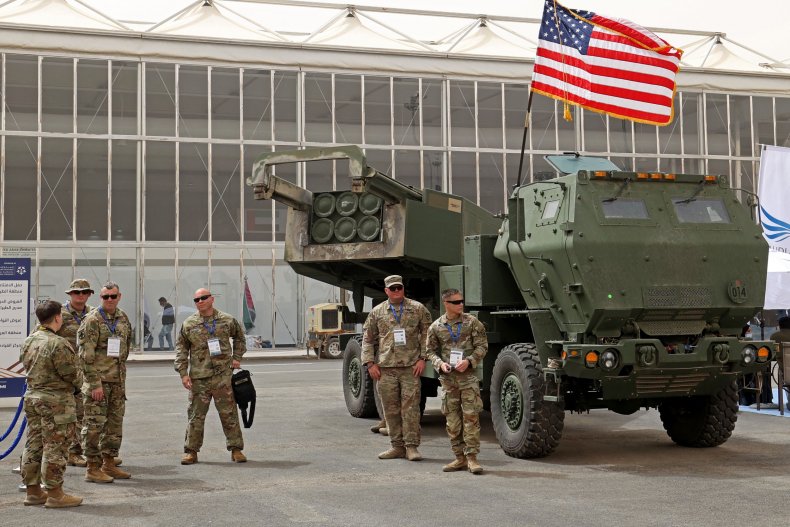 Also in the package will be ammunition from the NASAMS surface-to-air missile system and up to 50 M113 armored medical transport vehicles, 200 of which the US had previously committed to Ukraine.
In July, the US pledged to send two NASAMS, though it is unclear if the launchers are already in Ukraine or if the ammunition was for launchers donated by another country.
The latest US contribution, which could be announced on Monday, adds to the $8.8 billion in US aid to Kyiv since the start of the war on February 24.
news week has contacted the Pentagon for comment.
Ukraine praised the latest delivery of HIMARS and Ukrainian President Volodymyr Zelensky hailed the amount of support his forces are receiving from the US, saying "it is bringing us closer to victory."
And the financial times reported that HIMARS systems were "fueling Ukraine's hopes" of a counteroffensive.
It comes as Britain's Defense Ministry said on Saturday that Russia's war against Ukraine "is about to enter a new phase."
In their daily assessment, defense officials said Russian convoys of military vehicles and weapons were moving away from the eastern Donbas region and concentrating in the south in anticipation of a "possible assault" or counteroffensive from Kyiv.
They said equipment was also moving from Russian-occupied Melitopol, Berdiansk, Mariupol, and from mainland Russia across the Kerch Bridge into Crimea, which Russia annexed in 2014.
Battalion Tactical Groups (BTGs) of up to 1,000 soldiers have been deployed in Crimea "and will almost certainly be used to support Russian troops in the Kherson region," which Ukraine is seeking to wrest from Russian control.
Meanwhile, Ukrainian forces continued to attack bridges, ammunition depots, and rail links in the southern regions.
This push includes the strategically important rail link linking Kherson with Crimea, as Ukraine attempts to "impact Russia's ability to logistically resupply."
Last week, Ukrainian forces used HIMARS to attack the Antonivskiy Bridge and a nearby railway bridge over the Dnipro River in Kherson, dealing a heavy blow to Russian forces.
news week has contacted the Ukrainian and Russian defense ministries for comment.