Alberta Emergency Alert initially reported the event as a tornado that had touched down just west of the city.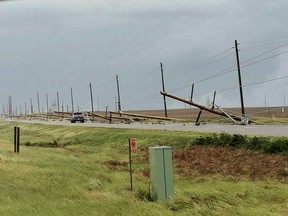 article content
A violent storm hit southeastern Alberta near Medicine Hat on Monday afternoon, damaging homes and knocking out power to thousands of homes and businesses in the area.
article content
Alberta Emergency Alert initially reported the event as a tornado that had touched down near Highways 1 and 523 near Medicine Hat, but subsequent updates referred to it as a "dangerous and damaging wind storm." Paramedics and other emergency crews responded to the area, but AHS reported no injuries.
A video posted on Twitter showed torrential rain and strong winds hitting parked cars in Redcliff, just west of Medicine Hat.
The storm knocked out power to more than 7,000 customers on the west side of Medicine Hat. As of 3:30 p.m., the city said it had restored power to more than 1,700 properties, while around 5,600 customers remained without power. He noted that several power lines were down in the region and emergency crews were responding to reports of people confined to their vehicles under live power lines.
article content
Medicine Hat resident Sarah Bourgeois said she was home with her five children when the storm hit. When it subsided later in the afternoon, she found several branches lying in the street, blown from her neighbors' trees by the wind.
"It was pretty scary for all of us," he said. "We kind of ran downstairs and hid, but the thunder was shaking the house… I don't think I've ever had a storm that bad before."
In a news release, the Redcliff RCMP said it has received reports of a possible tornado on Highway 3 in Cypress County that overturned a mobile home. Other calls reported damage to residents along Highway 523, Mounties said, adding that roads throughout the county were closed and the public was asked to avoid the area.
article content
A tornado watch was briefly issued for Cypress County, a rural municipality surrounding Medicine Hat, although it was no longer in effect as of late Monday afternoon. Residents requiring assistance after the storm were asked to go to the county office in Dunmore.
Environment Canada also issued severe storm warnings Monday afternoon as a series of storms dumped hail and brought high winds to areas of southeastern Alberta. By 3 p.m., the warnings had been downgraded to watches.
You can sign up to receive emergency alerts from the province at Emergencyalert.alberta.ca.
article content