New South Wales have sent this year's State of Origin series to a decider, recording a resounding 44-12 victory over Queensland at Perth Stadium.
The Blues led by just two points at halftime but let loose after the break, making five unanswered attempts in the second period.
Nathan Cleary scored two tries and 24 points for New South Wales as he relegated his subdued Game I performance to the history books and vindicated coach Brad Fittler's decision to make complete changes to his team after the season-opening loss. Serie.
"There were just some simple things that we needed to change," Cleary told Channel Nine after the match.
"I am very lucky and blessed to wear this jersey and now we have one more left."
The Blues enjoyed 61 per cent possession and ran almost 800 meters further than the Maroons, who made 10 errors and sent Felise Kaufusi to the sin bin before halftime for the team's repeated infringements at the ruck.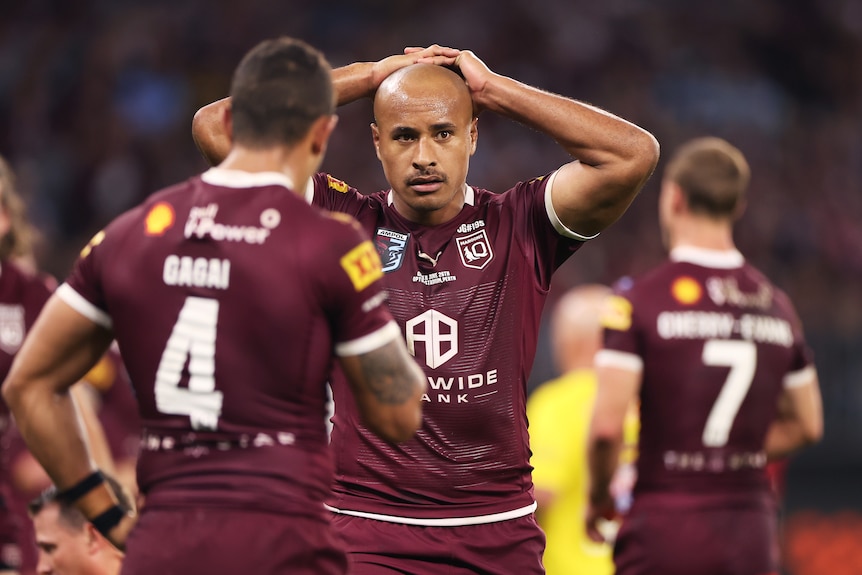 Despite only registering two play-the-balls inside the Blues' 20m box in the first 40 minutes, the Maroons were leading 12-8 after half an hour thanks to attempts from Kaufusi and Cameron Munster, on either side of an attempt by Blues debutant Matt Burton. .
But with Kaufusi trashed just before the break, the Blues sent in Brian To'o to score and Cleary kicked a side conversion to give them a 14-12 lead.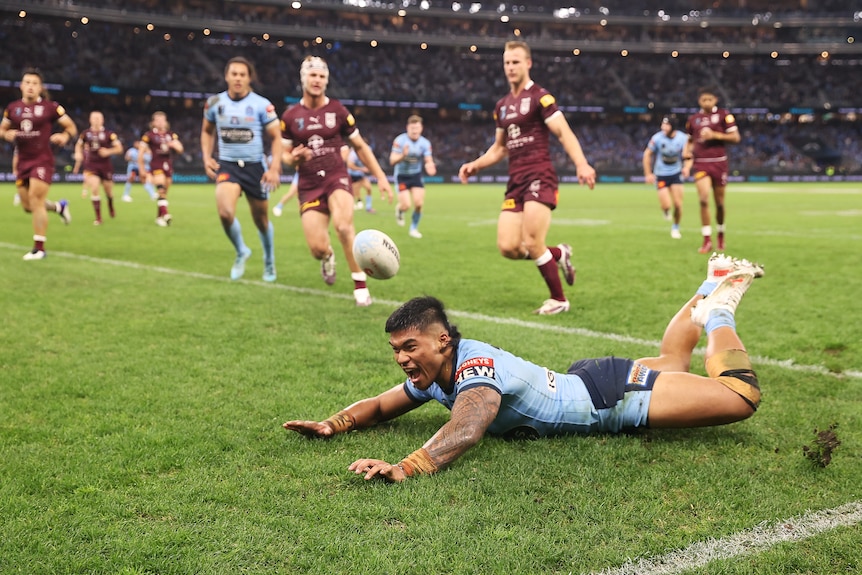 Although the Maroons didn't get back on track after the break down 12 men, it wasn't long before the floodgates opened in the second half.
Daniel Tupou scored from the corner after Cleary fired a precise overhand pass, before Jarome Luai scrambled between two fatigued defenders to score untouched just before the hour mark.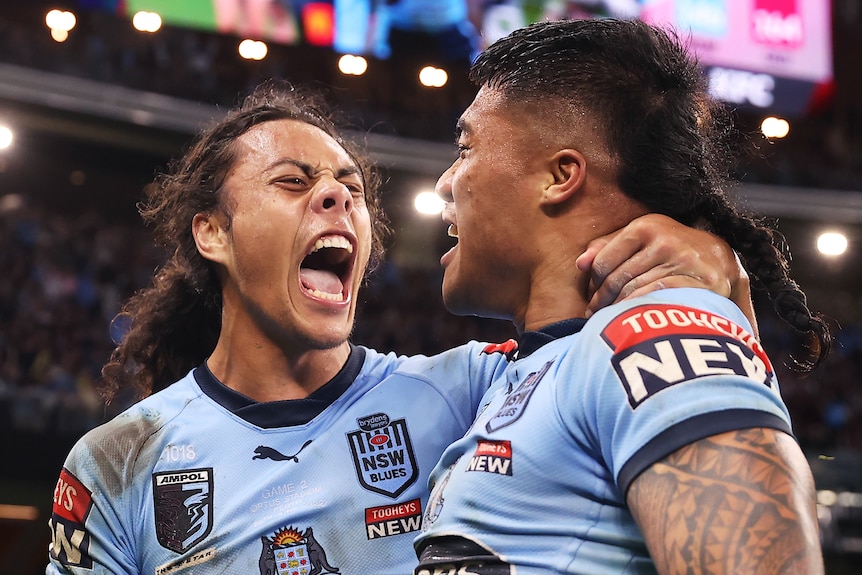 Then Cleary went on a rampage, scoring twice in quick succession to put the Blues out of sight and cap off a dominant performance.
Angus Crichton scored the Blues' seventh with five minutes remaining to help the Blues to a famous victory reminiscent of their 38-6 thrashing of the Blues in Game II of the 2019 series, the last time State of Origin met. played in Perth.
Look back on how all the action unfolded on our live blog.
live updates
let's call it there
Well, what a change.
NSW were close in the first game but were way ahead in this one and completely changed the look of this series.
An Origin landmark event in Brisbane is a tantalizing prospect and we're lucky to have one this year.
See you here on July 13. Until then.
Players on ABC Radio
Jake Trbojevic: "It was a really nice performance… we created a bit of pressure and had a bit of joy at the back… it was a patience game."
Matt Burton: "To be honest, it's a bit of a blur… to come here tonight and wear this jersey, it means a lot… it was quick, it was everything I hoped for and more."
Nathan Cleary: "Obviously very happy, I'm so excited for Burto too, what a debut… We knew we had a job to do… really happy about it… one to go now."
Brian To'o: "I'm just so thankful to play another game for the Blues, and I'm really honored to put on the jersey with the other Panthers."
Cameron Munster: "They were too good tonight, that's all I can say…I thought we were the better team in the first half…we had no legs left." [at the end]."
Munster also said his shoulder was "very sore, very sore" and he will have a scan. He also said "we'll see how it goes" when Nine's Darren Lockyer said "see you in Brisbane" for the decider.
key event
The Blues have demolished Queensland to keep the series alive
If the first game was a tight Origin classic, then tonight was the polar opposite. Just an absolute bloodbath, like we've seen a few times in recent years, mainly from NSW.
The first half was a real struggle, but it feels like it's been a lifetime, because after those 15 minutes in the middle of the game, the Blues just pounced on a gassed Maroons side.
Nathan Cleary was exceptional: he scored 24 points, shot 8/8 and ran nearly 100 yards, but it was the time his brokers, including starting hooker Api Koroisau, gave him that allowed him to weave his magic.
Thanks to them for recovering from the first game and doing so emphatically.
For Queensland, it's back to the drawing board. You have to focus on the first half for its positives, because the second half was a complete cancellation. The period reduced to 12 men, including To'o's try just before half time, obviously played a part in the result, but the fact is that NSW only scored one try against 12 men. It was after that that the Maroons felt the pinch.
Those moments can happen in a game and it's about how you recover from them.
Speaking of recovery, the Maroons need to do it in time for the decider at Lang Park on July 13.
minute 80: The match will end with the ball in the hands of the Maroons. Thanks to them they are still trying a few things on the kick return but this is a resounding victory for NSW.
minute 78: Grant slides close to the line and is stopped by the defense, but is called in to hit him while trying to reach the middle of the dummy.
minute 77: Taulagi takes another Cleary Bomb and blows the whistle. I think Val Holmes thought he'd been asked for another escort, but it was Tupou who called offside.
Oh! Damien Cook has been called out for an ugly low cannonball tackle on Harry Grant. He seemed worse than worse, but he was still dangerous.
Angus Crichton is in New South Wales
It looked too easy, and it's very close to whether or not he was behind Jake Trbojevic when he caught the ball.
But it is rewarded. I think we are lucky that this result is already beyond doubt, because it was close.
He came out of the back of a makeshift football: volley after volley.
minute 74: Munster is defending at fullback by the looks of it, and has dropped a bombshell and unleashed a very speculative volley into his in-goal. But Taulagi walks out of there after picking up the ball that he bounces.
And Munster lost the ball in a more traditional volley. New South Wales attacking again.
minute 72: I'll say it again, but I think you know, DCE kicks deep and under pressure. NSW start their set with a head full of steam.
minute 71: Tino Fa'asuamaleaui is back on the field and immediately Junior Paulo steals the ball from him.
Another gut punch for Queensland.
Kalyn Ponga is being withdrawn for a HIA. Josh Papali'i replaces him. Munster to fullback and Hunt to midfielders?
minute 69: The Maroons finally restrict NSW to 50 meters for a set, and Selwyn Cobbo gets a clean hold on a Burton bomb.
And a pity to fix things. The game has gone to the Maroons. It's about saving face now.
Nathan Cleary is at it again!
Ben Hunt bites into a mannequin, knocking Payne Haas down, and Cleary comes out mostly unscathed.
The conversion is over and there are still 13 minutes left. We could be heading into record-breaking territory right now.
minute 66: Aside from being exhausted, the Maroons don't have fresh legs ready to go.
And the short serve attempt has gone backwards! Penalty New South Wales. Stop the fight.
Cleary light up and the Blues are rolling now
Again, the Maroons' defense is all but dead and Cleary took advantage. Hunt and Ponga slipped, and Kaufusi was unable to clean up by covering the back.
Just a big left foot of the runner, who makes 32-12 with his right boot.
minute 64: Dane Gagai has been assaulted by Matt Burton. Gagai has been silent on this game and that's shocking.
minute 63: The Blues are over halfway through their third inning after a Cherry-Evans torpedo attempt.
Making meters look easy is NSW. But Nathan Cleary has dropped trying to play the ball. The Blues are defiant. It seemed like a standard situation where the attacker tries to play the ball too fast and hits, but after the nudity call in the first half I'm not going to predict anything.
The challenge is unsuccessful. Play. Queensland receives the ball as Siosifa Talakai enters the scene to play on the left flank. More danger for an exhausted Queensland defense.
minute 61: Burton throws a bomb at Kalyn Ponga. Conventional, but still tough. And the Maroons start another set transporting it from their test line.
Valentine Holmes unleashes an incredibly risky volley. The Maroons need to take chances, but that might be too risky.
Jarome Luai has just arrived in NSW
Jeremiah Nanai, new to the field, ran off the line and was completely frozen by some very light footwork from Luai.
Gagai also didn't break away from the marker quickly enough to help from the inside, and it was too easy for Luai.
Maroons look gassed. genuinely cooked.
Cleary converts to make it 26-12.