Parents from St. Catherine's School are joining forces with families from other Anglican schools to fight the requirement that incoming Heads sign a statement that they believe marriage is between a man and a woman.
St. Catherine's headmaster is leaving at the end of the year, and the relatively new rule for diocesan-run schools will require his replacement, who is appointed by a council dominated by representatives from the conservative Anglican Church of the Diocese of Sydney, which rejects homosexual marriage, to sign the document.
The school board is expected to make an announcement about a new principal on Friday.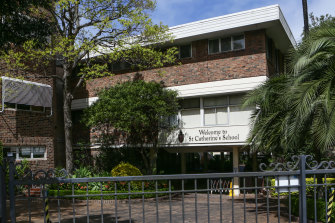 The issue prompted Equality Australia to call on the Albanese and Perrottet governments to reform laws that allow religious schools to expel, dismiss or discriminate against students based on their sexual orientation.
"The policies that are being imposed on schools like St. Catherine are not only out of step with the school community, they are also completely out of step with the expectations of the 21st century community," said Ghassan Kassisieh, Legal Director of Equality Australia.
St Catherine's is one of a number of high-fee Anglican schools facing internal strife. The parents of The King's School are upset about an expensive trip by the headmaster and his wife to a British rowing regatta, while the Shore community is unhappy with the school's headmaster.
In Cranbrook, which is Anglican but not run by the diocese, there are deep divisions over a plan to become co-educational.
At St. Catherine's, a coalition of parents known as the Love School Group has been lobbying the council to drop the requirement. A survey of more than 80 percent of Santa Catalina parents found that four out of five of them opposed the declaration.
They say the community was not asked about the declaration and has no say in the director's selection, despite paying up to $37,000 a year in fees.