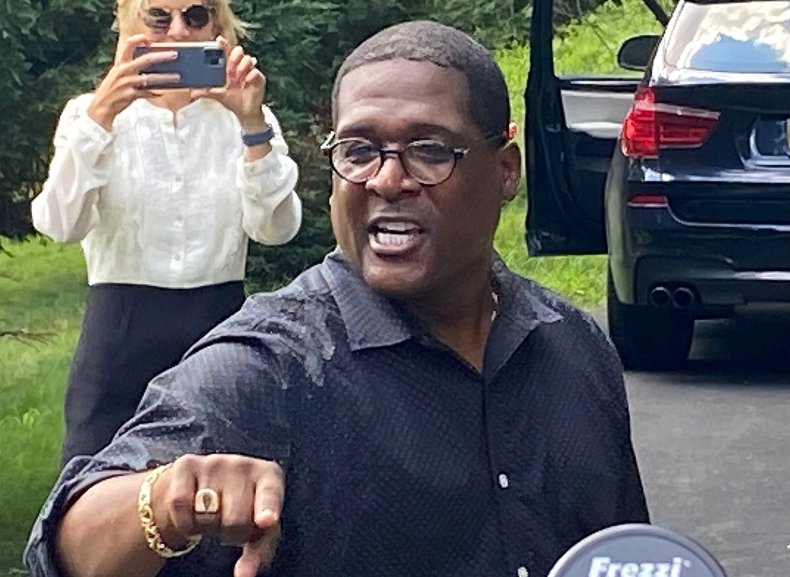 A spokesman for Bill Cosby has lashed out at protesters after the comedian was found guilty of sexually abusing a 16-year-old girl in a civil lawsuit.
Cosby, who was released from prison last year after a criminal sexual assault conviction was overturned, was found guilty Tuesday of abusing Judy Huth in 1975, when she was 16. Cosby was ordered to pay Huth $500,000, although no punitive damages were awarded.
A video shared to Twitter by Variety shows Cosby spokesman Andrew Wyatt berating a group of protesters who shouted phrases like "Bill Cosby is guilty" and "serial rapist" as he spoke to the media outside the Santa Monica, California, courthouse after the verdict.
"Real victims don't act like that," Wyatt said as he pointed to the booing group. "Real victims of sexual assault…what these women have done is use the sexual assault card. Real victims don't come out here and scream about the media when we gave them the utmost respect."
"We have stood firm on the top of the mountain of professionalism," he continued. "We'll always be on top of the mountain of professionalism, no matter what. We'll let her yell at the public because she's not relevant."
Earlier, Wyatt insisted the verdict was not a "victory" for Huth, arguing that "the victory was ours" because Cosby's team "got to show what this woman was all about," drawing some laughs and boos from the crowd. .
Huth and his attorney Gloria Allred stood to the side, about 20 feet from Wyatt, as Cosby's spokesman complained about the "level of people Gloria Allred seems to go after."
A woman in the crowd could be heard shouting "Gloria Allred is the best" before the camera panned to Allred and Huth smiling and laughing as they watched Wyatt speak.
Wyatt then went straight to Allred and accused her of having "blown up Juneteenth" because she was "going after a black icon."
The crowd responded by shouting that Cosby was a "rapist" rather than an "icon", with one woman in particular saying that she was "talking like a black woman" and a "black survivor".
Wyatt and Cosby's legal team, which plans to appeal the verdict, left the press area shortly after the clash with the crowd.
Allred and Huth also spoke to the media about winning the lawsuit, which was filed in December 2014.
Huth said Cosby committed the assault after inviting her and a friend, who was also a minor, to the Los Angeles Playboy Mansion days after meeting them while they were filming a movie. Cosby has maintained her innocence.
Allred said the verdict meant that Huth "won real change" after having "fought Bill Cosby, step by step, for more than seven and a half years".
"I was elated," Huth, now 64, said of the verdict. "This, for me, was a great victory. It really was, for all the victims."
Nearly 60 women have accused Cosby of sexual assault over the decades. Cosby has denied each accusation. At the conclusion of a criminal trial in 2018, he was found guilty of drugging and sexually assaulting Andrea Constand in 2004.
Cosby, 84, had served nearly three years when he was released from prison in June 2021. The criminal conviction was vacated on the grounds that the prosecutor had violated a predecessor's earlier agreement to refrain from prosecuting Cosby.
Earlier this year, the US Supreme Court refused to review the decision to overturn the verdict. Allred, who has represented 33 of Cosby's accusers, promised that he "could still face other consequences in the justice system" as he weighed the Huth case.
news week contacted Cosby's attorney, Jennifer Bonjean, for comment.