The NSW government will try to revive a struggling program to identify the state's best classroom teachers and has set an ambitious goal of increasing the number of them tenfold over the next three years.
The system that promotes teachers to "highly accomplished" or "leadership" (HALT) status, to mentor other teachers, has been in place for 10 years, but despite initial plans to have more than 1,000 of them in 2022, there are just 274 across three sectors in NSW and just over 1,000 nationally.
Many teachers find the application process too complicated and expensive. To earn higher salaries, most leave the classroom and become principals or work in the central office. High-performing systems in countries like Singapore have many expert teachers, or "teacher teachers," to improve learning in all schools.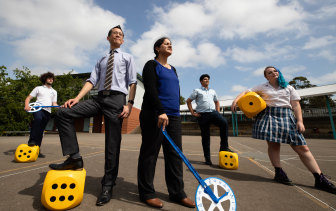 Education Minister Sarah Mitchell wants 2,500 HALT teachers by 2025. She said the application process would be streamlined to cut red tape and teachers would be given clearer guidelines on how to provide evidence of their quality teaching, as well as feedback on their application.
"The quality of teachers in NSW is world-class, but we haven't seen that reflected in the number of teachers seeking higher levels of accreditation, which also attract a higher rate of pay," he said.
"This is something I want to see more of: teachers are recognized and paid for their impact, and I hope to see the number of HALT teachers grow to at least 2,500 by 2025."
Australian schools face a growing teacher shortage across many geographies and disciplines, and surveys have shown that some potential candidates are put off by a lack of career advancement opportunities if they remain in the classroom, as well as relatively low salaries. compared to other professions. .
In NSW, assistant principals and principals earn $126,528.00, HALTs earn $117,060, and classroom teachers at the top of the pay scale earn $109,978. Many teachers have been discouraged from applying for HALT status because they feel the additional payment does not compensate for the complexity of the application process.
When NSW adopted HALT certification, which was introduced nationally in 2012, it aimed to have 1,110 outstanding teachers by 2022, but a report from the NSW audit office said that in 2019, the target was halved to 530. .