Liberal elites who benefit from the institutional status quo have fallen in love with the term systemic racism because it does not lead to substantive change.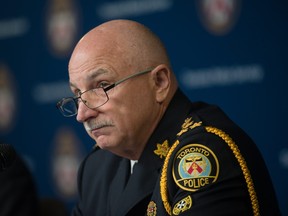 article content
On Wednesday morning, Toronto Police Chief James Ramer issued a formal apology to blacks in response to new race-based data on police use of force and body searches. naked.
article content
"The release of this data will cause pain to many," said Ramer. "Your concerns have deep roots that go beyond the release of today's report. We must improve; we will do better".
No one person can speak for an entire race of people. I only pretend to speak for myself and for others who agree with me. But I am a black man. And I don't accept Ramer's apology.
The boss's apology is rooted in a flawed worldview. The Toronto Police Service has decided to jump on the systemic racism bandwagon to explain racial disparities. By adopting this language alongside universities, big business, and government bureaucracies, the police service is doing the bidding of liberal elites who don't really want to help black communities or anyone else.
article content
Let me explain.
Liberal elites who benefit from the institutional status quo have fallen in love with the term systemic racism because it does not lead to substantive change. For liberals in positions of power, systemic racism is (ironically) a get out of jail free card. Instead of individuals taking responsibility for prejudice and discrimination, elites can treat racism as an invisible spirit that occupies an organization's policies and practices. At the end of the day, the liberal elites get to the virtue signal about fighting racism with none of them being held accountable.
You do not believe me? Ask Chief Ramer: If there is so much racism in the Toronto Police Service, who exactly are the racists and why don't you fire them?
article content
The term systemic racism is also attractive to the particular segment of liberals who are would-be revolutionaries because it allows them to condemn Canada in general. For university professors and journalists who use racial disparities as an indictment against capitalism, Christianity, or Canada's history as a constitutional monarchy, being specific about racism is counterproductive. Would-be revolutionaries blame the "system" so they can push to change our country from the top down.
Importantly, there are key points in the race-based data that need to be addressed. For example, according to the report, Black people in Toronto are 220% more likely to interact with police officers and 160% more likely to have officers use force against them. The Toronto police should have an explanation of why this is the case and what an appropriate response to such disparities would look like.
article content
However, by focusing their response on a political concept like systemic racism, the Toronto police inspire little confidence in wanting to fix anything. For example, how does systemic racism explain that black and white people in Toronto are overrepresented in strip searches in exactly the same proportion? Both whites and blacks were found to be subject to strip searches at 1.1 times their population. Does that mean white people are also victims of systemic racism?
Perhaps a better explanation for some, but not all, of these data is class inequality. Liberal elites never take class politics into account because they are quick to racialize every issue, because addressing the class issue could challenge the entrenched power liberal elites enjoy in almost every institution in Canada.
Another important consideration is how this race-based dataset fits into a larger context. Blacks are overrepresented in interaction with the police, but we are also overrepresented as victims of violent crime. I don't remember Ramer apologizing for that racial disparity, which claims so many young lives every year.
We have more than enough liberal appeasement to go around. We don't need more, especially from a police chief. Black communities deserve better. Just like the men and women who wear badges.