The board and advisory committee of the Emergency Services Telecommunications Authority will be dissolved and the organization will change its name to triple zero win after the release of the final report on the failings of the state's beleaguered triple-zero dispatch system.
Former Victoria Police Chief Commissioner Graham Ashton, who led the review, said the service was "continually and systematically" underperforming.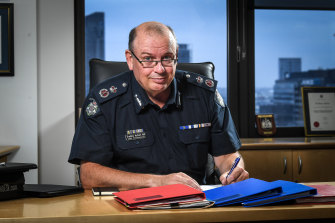 The review found that the service has suffered over the years because it has been unable to recruit and retain experienced call operators to cope with spikes in demand. The Victorian Government will provide ongoing funding to the organization so that it can employ more receptionists to meet current and future demand.
The Victorian government launched the Capacity and Service Review – Final Report at ESTA on Thursday afternoon.
"Throughout its short history, the number of times the system has failed continues to grow, often with dire results," the report states.
"Throughout the review, ESTA acknowledged that due to the current [call-taking and dispatch] resources, a workforce of just 800 operational employees, and a lack of flexibility in business arrangements to accommodate demand, has struggled to meet the resource requirements needed to respond to increased [call-taking and dispatch] during a surge event.
"ESTA was unable to meet increased demand during major storm events in 2021 and during peak periods of the COVID-19 pandemic."
The Victorian government welcomed the report, saying it recognized that the future of organizations depended on supporting the workforce to increase the number of people taking triple zero calls.