"The test is one of a number of strategies Bondi Beach Public School has implemented to support learning and positive behavior in the classroom. Other examples include having two breaks in the day of a similar length where children can engage in active play if they wish," the spokesperson said.
"Wellness data, student feedback, and teacher observations show that the trial is having a positive impact."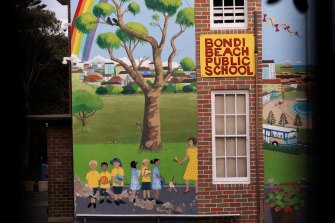 Another parent, who has had three children at the school for 10 years, said he was concerned the children were "forced to sit quietly in classrooms before the school day started."
Annie Robin, a mother whose son is in Year 4, said that after months of COVID-19 disruptions, students need to "socialize with groups from other years."
"My main frustration is that children are not learning how to put out fires on their own or how to deal with conflicts in the schoolyard; they need to be around other children. They need to be running around burning energy," she said. "Parents are really upset about this."
Per the latest COVID-19 advice, schools are not required to keep students in their class or year group cohorts and there is no need to stagger start and end times. Schools can also hold activities and assemblies with mixed year groups.
Another parent, with two children in different years at Bondi Beach Public, said many restrictions introduced during the pandemic have remained in place.
Charging
"There is outrage in the community. Before COVID-19, children could report to school from 8:30 a.m. and play in the schoolyard before the bell rang," the parent said. "All stages blended together and he was very social. But a lot of the COVID-19 rules have stayed in place and just get in the way of kids interacting, which is so important as they get ready for high school."
In a letter to a parent, the Bondi Principals Network said that "the positive impact of the current routine will be seen over time and therefore [principal] Ms. O'Neill explained that the evaluation will not be finalized until the end of the year".
"Ms. O'Neill will provide an update to parents once the comments have allowed appropriate conclusions to be drawn," the letter said.
Our Latest News Alert Will notify you of important breaking news when it happens. get it here.