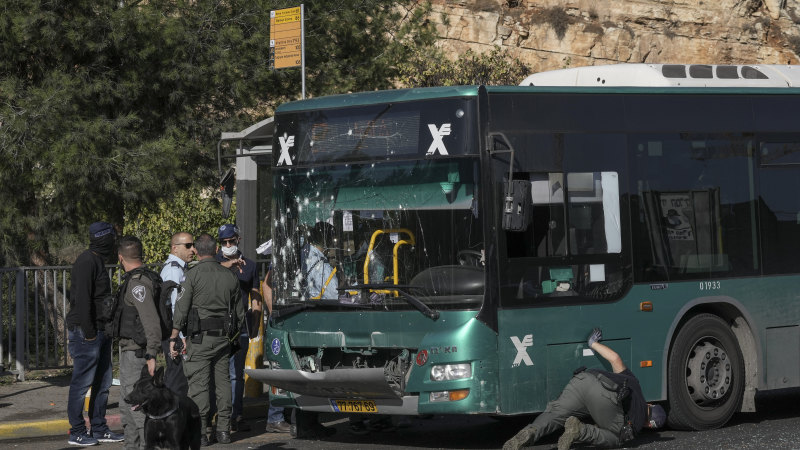 "It was a crazy explosion. Medical worker Yosef Haim Gabay, who was at the scene when the first explosion occurred, told Israel Army Radio that there was damage everywhere. "I saw people with bleeding wounds everywhere."
Although Palestinians have carried out stabbings, carjackings and shootings in recent years, bombings have become rare since the end of the Palestinian uprising nearly two decades ago.
Dimiter Tzanchev, the US embassy in Jerusalem and EU ambassador to Israel, condemned the violence.
Hamas, which runs the Gaza Strip and once carried out kamikaze attacks against Israelis, praised the perpetrators of the attacks, calling it a heroic operation, but stopped short of claiming responsibility.
"The occupation is paying for its crimes and aggression against our people," Hamas spokesman Abd al-Latif al-Qanua said.
Israel said it was closing two West Bank crossings to Palestinians near the militant stronghold of Jenin in the West Bank in response to the explosions.
More than 130 Palestinians have been killed in Israeli-Palestinian fighting in the West Bank and East Jerusalem this year, making 2022 the deadliest year since 2006. The Israeli army says that most of the Palestinians killed were militants. However, stone-throwing young people protesting the military interventions and other people who did not participate in the clashes were also killed.
At least 7 more Israelis have been killed in recent weeks as a result of Palestinian attacks.
Forces escorting worshipers to a mosque in the West Bank city of Nablus overnight encountered and opened fire on armed suspects, the Israeli military said on Wednesday. The Palestinian Ministry of Health said that a 16-year-old youth died as a result of the incident.
Israel captured the West Bank along with East Jerusalem and Gaza in the 1967 Middle East War. Palestinians are seeking territory for their hoped-for independent state.