They sneaked in to take a photo with the new prime minister.
"We were so happy for him, I was inspired by his speech. It was beautiful, it came from the heart of him," said Amy.
Her husband, Manny, said Albanese had shown that "the sky is the limit." "I like his story: he was born to a single mother, he lives on a housing commission… He loves the underprivileged, the poor… It's a beautiful story, a life story."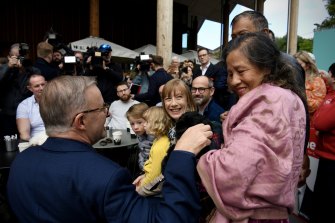 It also resonated with Elijah Midzar, 85, from the former Yugoslavia, who joined the crowd and said he had always liked Albanian. "He must be a good prime minister, because he was born into a poor family, that's what I think," he said.
As Albanese walked back to his car followed by Labor supporters and a few other spectators, he told reporters that his win on Saturday night had been a "great moment in my life".
"But what I want it to be is a great moment for the country. I want to change the country and change the way politics operates in this country," she said.
On Sunday afternoon, the Henson Park Hotel in Marrickville was packed with young families cheering on the Labor victory.
Albanese is a regular at the neighborhood pub, and licensee Nathan Somer said the new premier was a big supporter of local businesses in the area.
"Because we're a tight-knit community in the inner west, people are really passionate about [about his win] And it's obvious," he said.
Charging
The pub started playing election coverage last night as Scott Morrison made his resignation speech. Patrons booed and sang goodbye, but that turned to chants and raised fists when Albanese delivered his speech.
Somer said it was like a sports game. "The mood is great – one of our staff members is a volunteer and is probably the happiest man in Marrickville today. It's a very happy atmosphere, a buzz today talking about Albo, which is great for us too," he said.
"I think it's crazy – I didn't really have much as a kid, and Marrickville has really changed from a low socioeconomic area to where all the young couples and families are moving. But he is ready to lead the country and ready to make a change which is great."