An Aboriginal family and early childhood care center in North Melbourne that has a track record of meeting the goals outlined in the Closing the Gaps policies is calling for a stronger commitment from the state and federal governments to end your financial uncertainty.
The Bubup Wilam Center for Aboriginal Children and Families in Thomastown helps indigenous children and families in Melbourne's northern suburbs by implementing Bridging the Gap measures, such as keeping families together and equipping Aboriginal children with the skills necessary for the transition to school.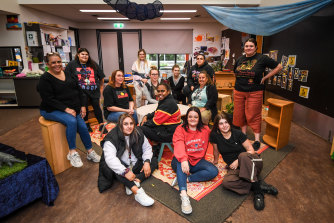 When it opened in 2012, it was the first early childhood care and education service of its kind in Victoria and only one of three in Australia. It is managed, directed and controlled by a board of nine members of the Aboriginal community and an Aboriginal CEO.
Despite a decade of positive results, the community-controlled center's board says it remains underfunded. They are asking for bipartisan government support to ensure the continued provision of a holistic and culturally safe model of care.
Bubup Wilam board member Wendy Brabham describes the center as "an old practice expressed in a new practice that is relevant today", but says its approach is often not recognized by the government.
"The government often sees it as a conventional kindergarten for early childhood. All funding streams are wrong because we are doing a great service to primary and secondary school with our focus on the early childhood level. We prepare the child to live with two worldviews," says Brabham.
"Our model equally places Western knowledge systems and Aboriginal and Torres Strait Islander knowledge systems in the child's education before they reach school."
Brabham says that school curricula still do not invest enough time or resources in developing curricula for First Nations children to counteract the damage caused by assimilation policies and provide equitable "relationable" learning.
"We are preparing our children for Australian society, but we are equipping them properly. They have been raised by their community through the center, and the values ​​of our community flow better," she says.